Feature Photographer and Adventurer Gina Soden
Championed by Zavier Ellis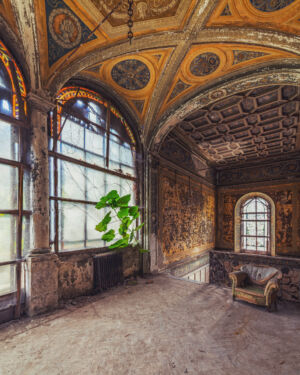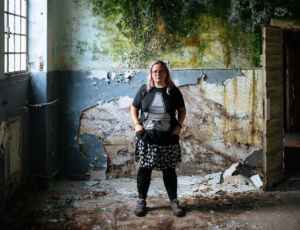 Fans of the highly regarded Charlie Smith London art gallery in Shoreditch will already be familiar with founder and director Zavier Ellis and his reputation for discovering some of the best emerging talent. His annual Young Gods exhibition, which is his personal selection of London graduates and postgraduates, has established him as a key talent spotter within the industry – many of his finds have gone on to enjoy global success.

Ellis knows a lot about international success too, having curated exhibitions in Berlin, Frankfurt, Helsinki, Los Angeles, Naples, Rome and London. It was while he was selecting works for group show Archaeologies in 2019 that he first worked with London-based photographer Gina Soden, choosing works from her Corrodium series to be exhibited alongside Michael Boffey and Danny Treacy.

Soden's photography explores the concepts of time and memory by capturing abandoned structures. She travels to derelict asylums, long since closed schools, ex-military compounds and famous city power stations in various stages of decay throughout Europe.
"There is a distinct Romanticism to Gina's work, which immediately engages me," Ellis says. "She seeks out abandoned sites that are derelict, worn, weathered and forgotten and in doing so combines beauty, decay and nostalgia. Within this, of course, is a direct communication with the historical. Gina is thinking about the Grand Tour, John Ruskin and the Gothic. But she also reminds us of the passing of time and of the impermanence of things, including ourselves. In this sense, we might consider her project as an ongoing memento mori."

Soden's practice, or "life-changing adventure" as she describes it, was the result of an accidental discovery on Google Maps. When looking for locations for portrait shoots in her hometown of Reading in 2009, she came across an old lab facility.

"I went to the lab and discovered that the fence had a hole in around the perimeter," Soden says. "I just thought, 'Why not?!' and I decided to sneak in and take a look. It was fascinating – I was instantly drawn in and I loved the rebellious side to it – being somewhere not many venture to and would not really know about. I then found an article about an abandoned psychiatric hospital on the outskirts of London, and without really thinking, I went four times in one week, gave up my full-time job and knew I wanted this to be a big part of my life."

Every image not only demonstrates the passing of time but a physical journey and the potential difficulty of gaining unlicensed access to out of bounds areas. Ellis adds: "Gina's work is also highly technical and labour intensive – from planning to travelling to making – and she is always looking to evolve and discover new methodologies. Gina has the ability to beguile her audience and in doing so she continues to add to a very loyal following."

Italy will be next to fall under Soden's spell as she completes her own version of a Grand Tour and a four-week residency at Villa Lena in Tuscany. She says: "I will be driving there from home and visiting abandoned places on the way and researching and gathering for a new original art series. I have been experimenting in my studio with different materials – I can't wait to see what this residency brings. I am also in discussions regarding a solo show, which is very exciting!"

We couldn't agree more.
About the champion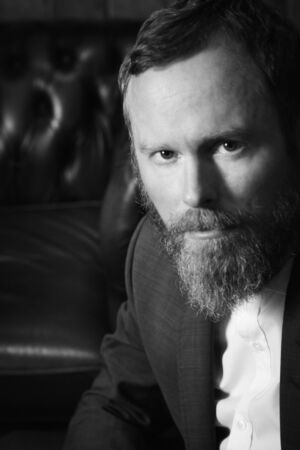 Zavier Ellis is an international gallerist, curator, artist and collector with an impressive eye for spotting and supporting important new artists straight out of art college. His contemporary art gallery Charlie Smith London also specialises in representing emerging to mid-career artists. He has curated exhibitions internationally, continues to place work in notable collections globally and his own work is also featured in prominent private collections including the seminal Sammlung Annette und Peter Nobel, Zurich.
"There is a distinct Romanticism to Gina's work, which immediately engages me."
Zavier Ellis