Feature Queen of the collage Scarlett Bowman
Championed by Becca Pelly-Fry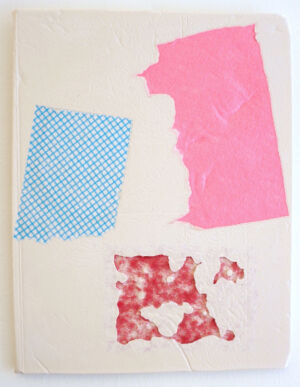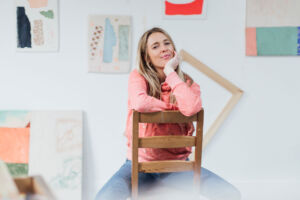 Interview
Scarlett Bowman & Becca Pelly-Fry
05 May 2021
Interview
Scarlett Bowman & Becca Pelly-Fry
05 May 2021
Curator Becca Pelly-Fry originally trained as a sculptor at Northumbria University before deciding to support the careers and practice of other artists. She specialises in working with emerging to mid-career artists that explore materiality and the process of making, as well as a symbiosis with the natural world, healing and spirituality – Pelly-Fry's interest in the latter has also seen her become a student of Andean Shamanism and a Master level Reiki healer.

As well as curating for Griffin Gallery, where she was director for just over five years, Pelly-Fry's impressive career and extensive curatorial work include time with Elephant West, an experimental art space in White City, London and supporting Angus-Hughes Gallery. She encountered multi-disciplinary London-based artist Scarlett Bowman in 2016 and earmarked her for her next show.
Becca Pelly-Fry says: "I first came across Scarlett's work in a group show, Polymer, at Fold Gallery in 2016 and was immediately taken with her raw, yet delicate, use of everyday materials. Collaging together discarded, commonplace items such as dishcloths, insulation felt, plastic bags and textile offcuts, she creates poetic explorations of colour, form and texture.

"I invited her to participate in a show I curated in 2017 entitled Stuff, at Angus-Hughes Gallery, which explored the artist's position concerning the current consumerist era of accumulation of material possessions. The way that Scarlett repurposes used, unwanted or discarded objects encourage us to reconsider our relationship to such items and reconsider the value of what we might otherwise call waste."

Theirs was a marriage made in "making". Bowman told The Wick of her practice: "I have always been interested in the process of 'making', which has its roots within the realm of craft. Discovering the Outsider art movement along with Arte Povera and this idea that art can be made with any form of material was a sort of revelation to me and opened up a whole new avenue to explore. Various approaches to craft such as the Japanese Boro textile movement have had a real influence on my practice."

Bowman's highly tactile work uses collage and assemblage as a metaphor for recording information. Her process is a mix of intuition and deliberate placement and incorporates selected found materials chosen for their shape, colour and texture as much as their autobiographical and historical value.

Becca Pelly-Fry adds: "While maintaining a clear relationship to the historic lineage of abstract art, Scarlett forges a new path that takes painting beyond the flat surface and rectangular format into three-dimensional installations and objects, encouraging us to question our relationship to the art object in the era of overconsumption and information overload. "More than all of that, Scarlett is a gorgeously warm woman who I just love being around; she is a delight to work with and a beautiful person, inside and out."

The duo will next be working together on a collection Pelly-Fry is curating with King & McGaw printmakers, which Bowman is providing a new limited-edition work for. Bowman's newest series of Patchwork Paintings will also be available at the Art Car Boot Fair on 15-17 May.
About the champion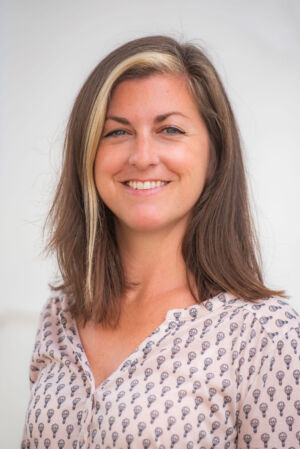 Sculptor turned independent curator Becca Pelly-Fry has many strings to her bow – she's an art and culture consultant, writer and even Reiki healer. Her extensive curatorial work has seen her curate for the Affordable Art Fair, act as director and curator of Griffin Gallery and head curator for cultural hub Elephant West.
"Scarlett forges a new path that takes painting beyond the flat surface and rectangular format"
Becca Pelly-Fry