Spotlight Figurative artist Harriet Gillett
Championed by Kristin Vicari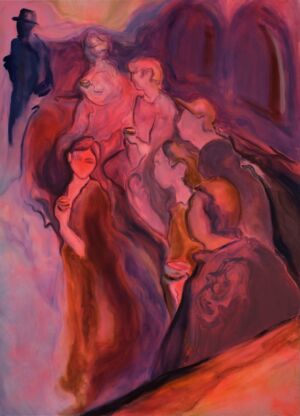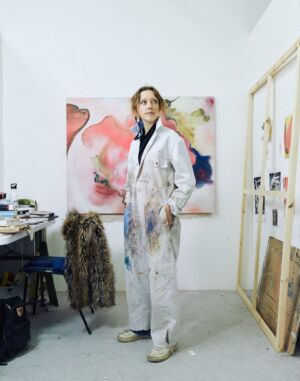 Interview
Harriet Gillett
08 February 2023
Interview
Harriet Gillett
08 February 2023
Photographer Kristin Vicari has an innate understanding of movement and appreciation of art that can only come from a watchful eye and years behind the viewfinder. When she's not capturing the likes of Sophie Turner and Sir Ian McKellen or creating work for Harper's Bazaar, Elle, and Glamour, you can find her at her recently opened interiors concept store in Margate. L'absurde brings together the worlds of interiors and art and also connected Kristin with artist Harriet Gillett.
Vicari says: "I first discovered Harriet during her City & Guilds MA show while searching for young, upcoming talent for my new interiors gallery in Margate. I instantly became obsessed by her alluring paintings. To me they are reminiscent of a fading dreamscape, the colours and shapes are like vapours slowly moving across the canvas. I bought her painting 'It's been so long since we slowed down/And waited for nothing at all' to hang in my young son's bedroom as I hope it will inspire him to dream beautiful dreams every day, and as a reminder to slow down and dream myself."

Since graduating from City & Guilds of London Art School last year, Harriet Gillett has been exploring the boundary between individual experience and collective memory in her paintings and exhibitions at Soho Revue and Saatchi Gallery. Her combination of traditional subjects and contemporary materials enables her to playfully tread a line between multiple perspectives and time periods.

Gillett says: "I love stories. I get a kick out of meeting people, hearing about their lives, finding commonality, and I love how art, music, literature can help us find a way to relate to people despite differing experience. It is that sense of connection with others that inspires me, and in a way my work is very much an extension of that.

"My paintings are all based on drawings that I have made from life, so they are all rooted in places I have been, people I have come to know over the years. In my work, I am searching for a sense of timelessness, the age-old things which are innate within us, that will never go away and remain the same as digital and technology fads come and go."

Vicari agrees: "Harriet has an otherworldly observational talent, which you can get totally lost in, especially in her large triptych work. There's so much detail while somehow retaining a sense of calm and soft beauty. Being a photographer, I really appreciate her sense of being the quiet observer capturing a scene. It's really exciting being able to watch Harriet come into her own and I am loving every new work she produces."

You can also see Gillett's newest creations at her shows at Roman Road and Brooke Benington in London before the end of February. Her group show 'Here Is Now' will follow at MAPA Fine Art in April.

About the champion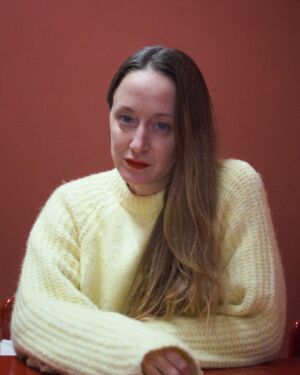 No stranger to galleries herself, photographer Kristin Vicari's work has been featured in the Turner Contemporary as well as publications such as Harper's Bazaar, Elle, and Marie Claire. Self-taught, she was discovered whilst working as a retoucher at Dazed & Confused, before going on to shoot her first large campaign with Diesel. She opened her homeware and lifestyle store in Margate in 2022, where she lives with her partner, children and dog.

"Being a photographer, I really appreciate her sense of being the quiet observer capturing a scene."