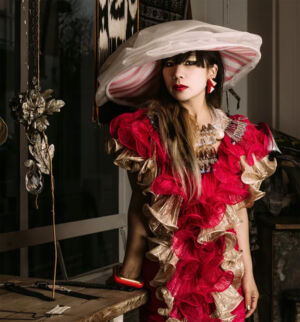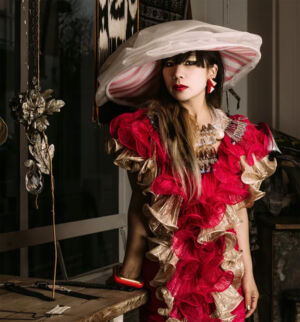 Interview Artist and designer Meihui Liu
Utter the name Meihui Liu in a mile radius of East London and you are sure to get an enthusiastic response. The artist, fashion designer and art world connector is a local fixture, and many a young designer or makeup artist will gladly say that they owe their career to her support. Taiwan-born Liu came to London in the late 1990s after studying fashion and made more than just a home here: she created a community.

Liu began her own label in 2000, launching Victim on Fashion Street after running a stall on the famous Portobello Market and in Spitalfields. Yet most will know her from 'Secret Rendez-Vous', the monthly party-cum-fashion-show that platformed up and coming hairdressers, stylists, make-up artists, graphic designers, photographers, musicians, DJs, and artists, catching stars like Alex Box and Patrick Wolf at the start of their careers, with the unwavering support of scene stalwarts such as Diane Pernet. Once established as a creative incubator in London, the party went global to Paris, Shanghai, Taipei, and Cadiz in Spain.

With practice in bringing together the eccentric stallholders of Notting Hill to the nightclubs of East London for 'Secret Rendez-Vous', it was a natural progression once she landed in Spitalfields to connect the local artists from all walks of life, from Gilbert & George to Philip Colbert and Pandemonia. It's this innate talent for connection that caught the eye of Oscar-winning artist and director Tim Yip, who recruited her as creative producer and partner along with photographer Maryam Eisler on his new art film Love Infinity.

With Love Infinity part one debuting on MUBI last week and the second part set for release this Thursday, we caught up with Liu to discuss her inspirations, thoughts on wearable art and the transformative power of dressing up.
THE WICK: Talk us through a typical Monday.
Meihui Liu: Mondays are relaxing for me. I'll go to one of my favourite cafes near my house in East London, by myself, and I'll plan for the week and decide who I will see. I will always try to catch up with several of my friends and fellow artists on a weekly basis, whether that's over coffee or a meal out. It's important to feel connected to your friends regularly – all my projects, from Secret Rendezvous to Love Infinity, are a celebration of friendship.


TW: Who is your personal Monday Muse?
ML: My Monday Muse is fashion icon Anna Piaggi. She inspired me with her unique style and was the reason that I decided to create my own fashion brand: she embodied the idea that every day is for dressing up. Before I came to the UK I was based in Taiwan and I only ever wore designer clothes, focusing mainly on the labels, but coming to London and to Paris showed me that I wanted to be unique in how I expressed myself. I was one of the Victims that I named my shop after! I was a fashion Victim to the big designers. Seeing Anna be so fully herself showed me that I wanted to create something one of a kind, to be different like her.

TW: Where does your love of fashion come from?
ML: Growing up in Taiwan I always looked up to this popstar – he was like a Taiwanese version of David Bowie or Prince, and I'd admired him since I was little. I can see now how much that has inspired my fashion. I'm also really inspired by the aesthetics of Italian films from the 1970s, and of course the 1980s – I feel heavily influenced by the music of the time, like Duran Duran, Depeche Mode, and all of the New Romantics. That's why I came to the UK: the music, and of course the fashion.

When I came to London it really opened my mind to thinking about looking different, upcycling and recycling pieces. I realised that all the vintage pieces that I was wearing in the market were more interesting to people around me than the expensive designer clothes.

A sense of place is very important to me. I started my fashion brand at a stall in Portobello Market then moved to Camden and on to Spitalfields and the East End. That whole journey across London has affected me a lot – the way I see fashion is that I always follow the music. When you follow young musicians you'll find the good parties, and when you follow the good parties, you'll find the right people.
TW: You have been credited with shaping the innovative East London fashion scene with your monthly Secret Rendezvous parties. How do you think that scene has changed today?

ML: I set up the monthly party almost by accident in 1999 when I moved from Portobello to the heart of Brick Lane. I first met Gilbert & George when I moved East, then discovered all these established artists that were here when I first moved to East London, and they became like mentors to me. Through them I started to meet all the young local musicians, then met loads of young designers from Central St Martins, and people who had stalls in the market. Everyone was juggling multiple jobs, one to pay the rent and the other in our free time to satisfy our creative spirits. In 1999 East London was a relatively affordable place to live and party in.
"Dressing up is a psychological transformation. I really believe that when you dress a certain way, it can change how you think and feel."