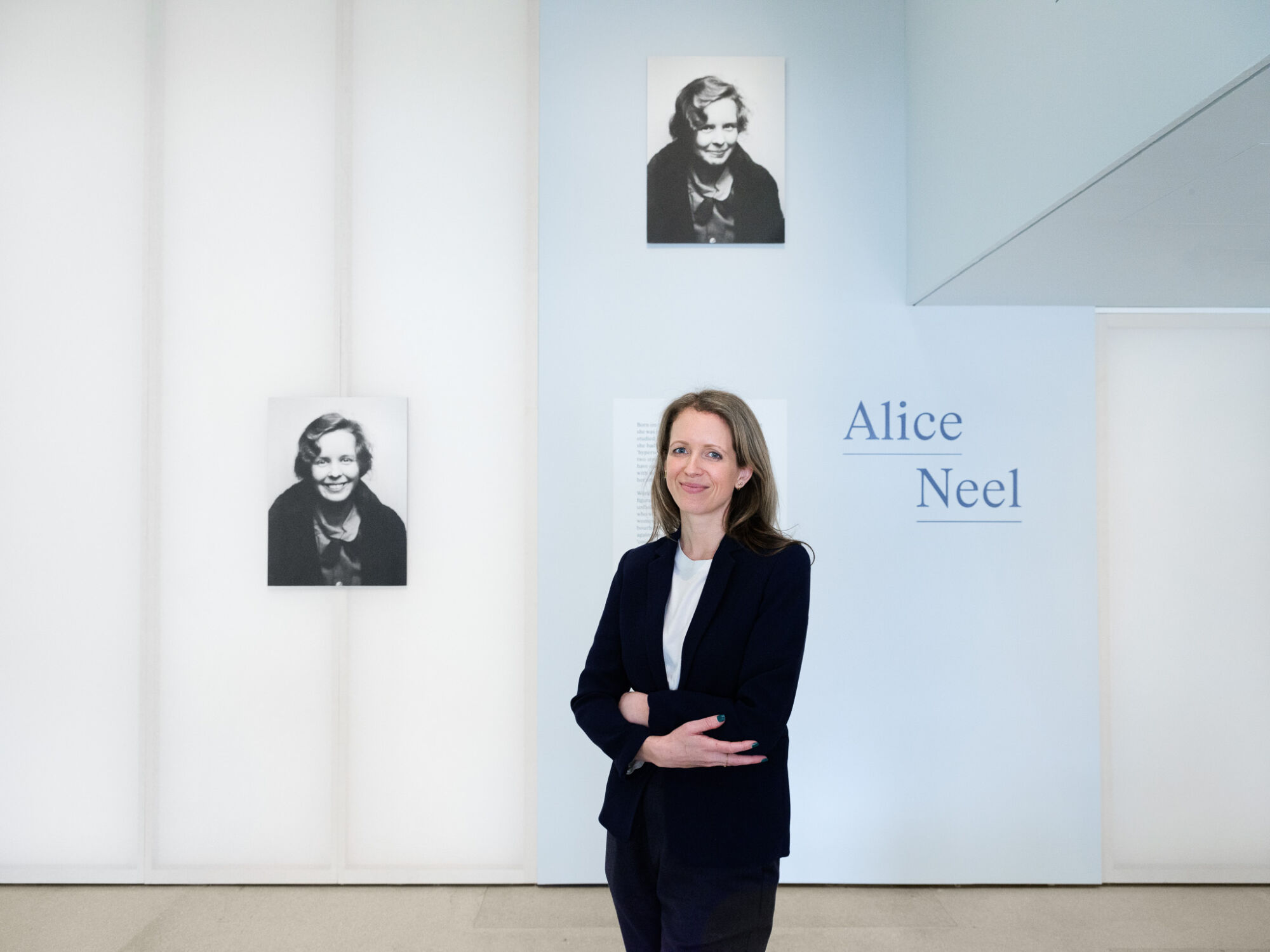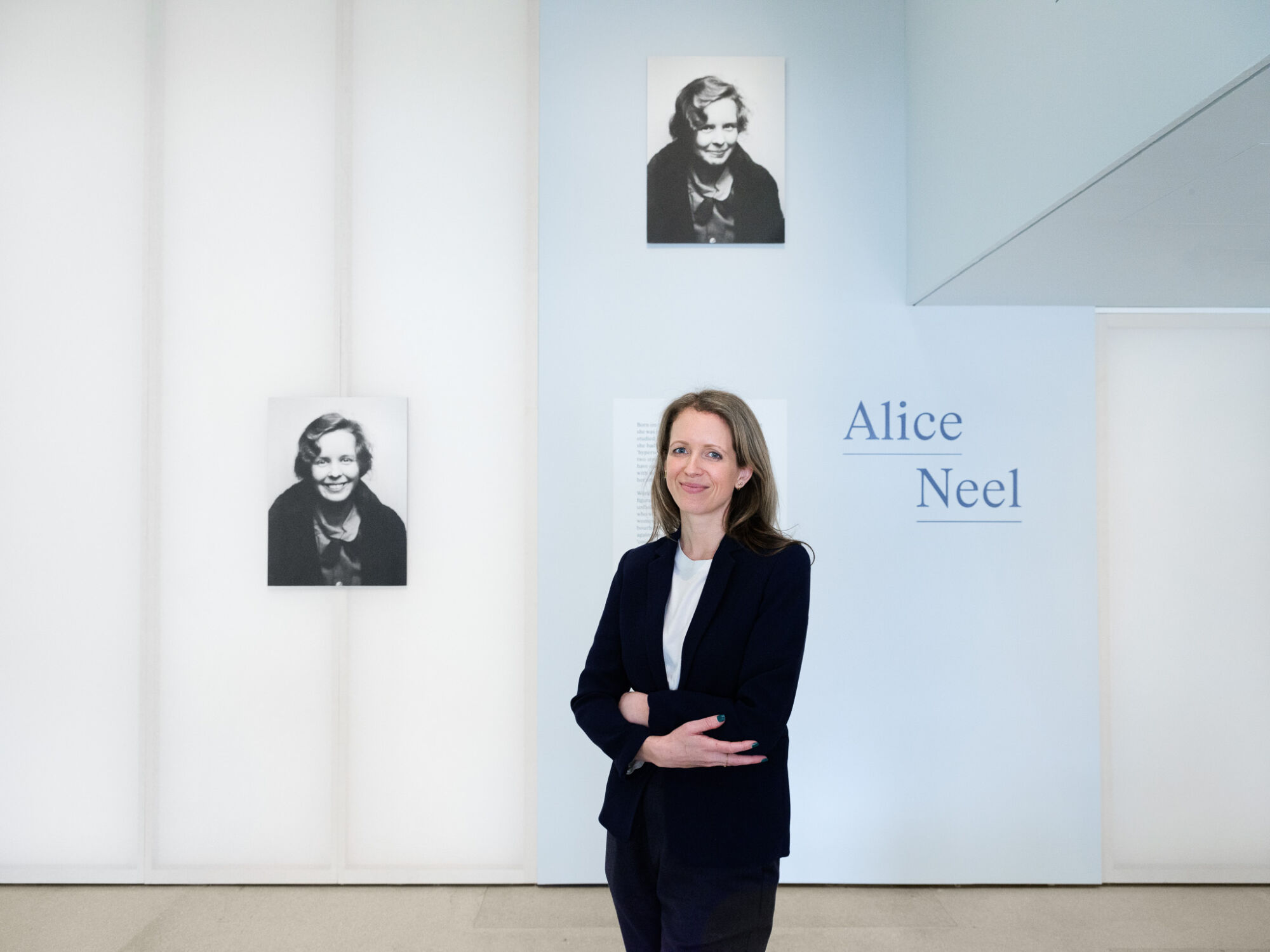 Interview Barbican Curator Eleanor Nairne
The Barbican has given over its entire art gallery to the American artist Alice Neel (1900–1984) until 21 May. Curated by Eleanor Nairne, Alice Neel: Hot Off The Griddle is the largest exhibition to date in the UK of Neel's vivid portraits, which capture the shifting social and political context of the American 20th century.

It's also the latest exhibition art historian Eleanor Nairne has curated at Barbican Art Gallery. Her previous exhibitions include Basquiat: Boom for Real (2017), Lee Krasner: Living Colour (2019-20), and Soheila Sokhanvari: Rebel Rebel (2022).

A regular catalogue contributor for institutions such as the Centre Pompidou in Paris and the Louisiana Museum in Denmark, she has written essays and reviews for The Art Newspaper, Frieze, and The New York Times.

Nairne was also previously curator of the Artangel Collection at Tate, working with artists including Francis Alÿs, Yael Bartana, Jeremy Deller, and Catherine Yass on more than 30 exhibitions and displays across the UK.

THE WICK: Who is your ultimate Monday Muse?
Eleanor Nairne: A muse can be a goddess who inspires your work, or the act of reflecting – turning an idea over in your mind. The people who feel vital to my creative life tend to have something of the noun and the verb about them. They stimulate me by allowing for alternative ways of orientating myself in the world. I go back to Deborah Levy's writing often, especially the intertwining of the intimate and the so-called professional in The Cost of Living, the first book of her autobiographical trilogy; Christina Kimeze is an artist with whom I can sit and look at paintings until they start to come undone and then slowly redress themselves again; and when I am first toying with the kernel of an idea, I'll often talk it through with the photographer Victoria Sambunaris, who has such an expansive imagination as she's in the business of distilling the great American sublime into her large-format camera.
TW: What would you like visitors to Alice Neel: Hot of the Griddle to take away?
EN: I'd like visitors to have a sense of Alice Neel's remarkable spirit, which shimmies into each and every one of her paintings. One of the reasons that her work has this remarkable heft is because she pours so much of herself into them. And that's no easy thing to do. She lays herself bare in her work and that allowed her sitters to do the same. Sometimes they were willing to literally expose themselves but often it was about being ready to be metaphorically naked. People let their mask slip when they were enveloped in her amiable chatter. When an interviewer asked her at the end of her life, 'what's the most reckless thing you do?', she was unequivocal in her response: 'my paintings'.
TW: Why is it only now that Alice Neel is receiving such widespread acclaim?
EN: Alice Neel waited quite some time for the world to catch up with her work. She exhibited intermittently throughout her life, but she was 62 when she had her first significant piece of press – from Hubert Crehan in ARTnews. Imagine making paintings throughout all those years, watching them line the corridors and rooms of your apartment, and still having the courage to press on. I like to think that she knew that one day her moment would come and we're certainly seeing that now. Although she knew everything there was to know about formal artistic technique, she broke with most of these rules in order to render a sense of charged immediacy in her paintings. And that's what we really respond to now – especially after the pandemic, when so many of us were alienated from our loved ones and forced to mediate our experiences through screens.
TW: Which work in the exhibition speaks to you personally?
EN: The gallery is alive with Alice Neel's voice and spirit and on different days, I find myself drawn to different works. Recently, I've been thinking a lot about the John Perreault painting: she made it over the course of 17 sittings and she really lavished it with painterly detail. Neel described him as looking like a faun, while the artist Chantal Joffe recently described him as like a big ginger Tom sprawled out for her. Maybe it's because he was a curator too, but I find myself wondering what it must have felt like to have been painted for a work intended to feature in your own show (Perreault was making an exhibition about the male nude) and their mutual courage and healthy sense of humour in collaborating on that exercise.
"Alice Neel waited quite some time for the world to catch up with her work."