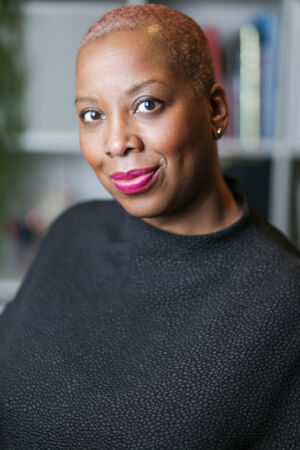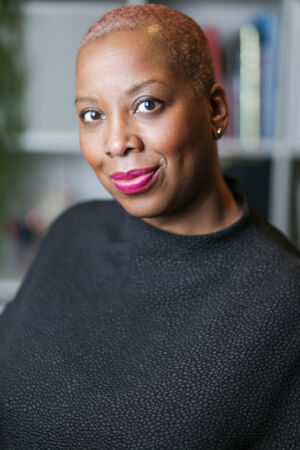 Interview Broadcaster Gaylene Gould
Photography
Nina Photography
06 February 2023
Photography
Nina Photography
06 February 2023
Ahead of this week's episode of Reworlding, Serpentine's recently launched podcast series, we caught up with host Gaylene Gould.

A seasoned broadcaster, Gould brings her expertise in creating interactive environments that inspire greater awareness and connection to the podcast. Over its five episodes, she invites contributors such as Es Devlin and Hans Ulrich Obrist to explore how today's leading artists and thinkers are engaging with worldbuilding, collective dreaming and collaborative transformation.

Gould draws on over two decades of experience as an interdisciplinary curator and cultural leader at major instutitions and organisations such as the BFI, National Theatre, Young Vic and Arts Council England.

After training to become a coach with RD1st, deep listening also became core to her work and life. It inspired her to launch The Space To Come in 2019, to facilitate artist-led projects designed to heal and connect us.

THE WICK: Who is your ultimate Monday Muse?
Gaylene Gould: This is an almost impossible question as my muses come in all forms and at various stages of my life. However, I am forever inspired by the people I collaborate with, which currently includes Zaynab Bunsie, the producer and psychotherapist who works with me, the Calthorpe Community Garden members, who hail from all over the world and have carved out safe spaces for themselves and others, and the cultural leaders-of-colour who work with such commitment despite experiencing cultural isolation. I am also inspired by those brave artists, writers and thinkers who explore new truthful ways to be together. Philosopher Bayo Akomolafe has been a north star through the pandemic years. I'm glad that Lola Olufemi is in the world, and Khanyisile Mbongwa, the curator of the Liverpool Biennale, is showing me how to stand firm but softly in the world.
TW: You founded The Space To Come to help others connect better with themselves and each other. What does a compassionate community look like?
GG: When I trained as a coach a few years ago, I was transformed by the craft of careful and compassionate listening. I experienced what happens when we still our judgement and how that allows another to build a deeper relationship with themselves. I experienced how this creates a profound connection. The compassionate communities I dream of are founded on these principles. We will each know how to connect from a place of openness, revelation, vulnerability and in collective search of a deeper wisdom. We will each understand that first we must connect that way to ourselves because the way we talk to another is simply a projection of how we've been taught to talk to ourselves.

Many of the experimental projects we trial at The Space To Come are centred on creating environments that inspire such kind connections. I view the projects I design as future world testbeds. I'm constantly looking for ways to sidestep the crippling societal problems we are experiencing now – most of which are due to an inability to relate to ourselves and others with kindness.

TW: Part of The Space to Come, Well Fed facilitates curated conversation dinners. What is your ambition for the project?
GG: The Well Fed dinners are a simple concept with profound results. The simple edition is a group dinner with a conversation menu that invites participants to explore themselves and each other in more intimate ways. The menus allow strangers to go beyond the 'bants' or corporate chit-chat to reveal more about what lies beneath each of us – our intimate stories, memories and imaginations. The more expanded version involves an artist simultaneously guiding diners to create an object that becomes a memory of the evening.

So far, we have been commissioned by a range of organisations from BAM in New York, Clore Leadership, Appetite and Selina Jones, MD of Scott & Co, for her networking events. This year, we are planning to roll out a number of special Well Fed events for the public. If anyone is interested in having a taste, they should sign up to The Space To Come mailing list.

TW: What would your dream dinner party guest list be?
GG: I'm currently exploring ways to creatively document my own healing process for the Black Mary Project that I'm directing. This project explores the relationship between land and healing inspired by the forgotten 17th century healing wells of London and a mysterious Black woman who was said to run one of them. Given that, I would love to share an intimate dinner with those artists, both living and passed, who have explored their own interiority in generous ways. I'd invite visual artist Carrie Mae Weems, whose 1990's The Kitchen Table Series lives happily rent free in my mind. I'd like to invite songwriter and musician Nick Cave for the deep humanity he would bring. I think Britchida, who makes these little personal cards documenting her emotional states, would enjoy this kind of connection. I'd call up Paula Rego whose psychotherapeutic training led to such brave, confronting works, and I'd be thrilled if Indigenous photographer and filmmaker Tracey Moffatt would pop across from Australia. Lee Mingwei would sit next to me and tell me the secrets of his elegant artistic invitations. To give us all a shake up, I'd set a place for comedian Richard Pryor.
"I'm constantly looking for ways to sidestep the crippling societal problems we are experiencing now."