Feature Caroline Walker's Striking Paintings of Women
Championed by May Calil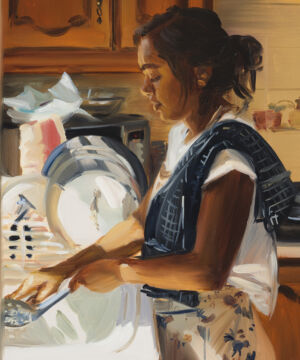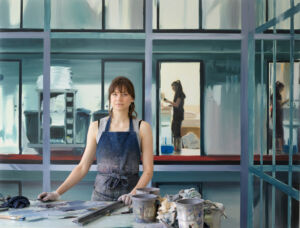 Interview
May Calil and Caroline Walker
16 June 2021
Interview
May Calil and Caroline Walker
16 June 2021
May Calil is the membership director of Cromwell Place, a first-of-its-kind membership exhibition and working space for the art world that invites dealers to use its 14 gallery spaces as needed, for weeks or even months at a time. Rather than opening a dedicated gallery in London, you can exhibit in an array of different spaces in its 19th-century buildings in South Kensington as required. As her involvement in this new art-hub suggests, Calil is a game-changer in the art world and has been for more than a decade. She can spot a winning idea or impressive new artist a mile off. Scottish London-based artist Caroline Walker was one such find in 2013.
"I was introduced to Caroline by a mutual friend in 2013 and she invited me to her studio, which is where I first saw her work," May Calil told us. That was the start of a nearly decade-long friendship between the two.

Calil adds: "I was immediately struck by the way Caroline paints with no judgement. She chooses subjects that could be considered everyday or lacking in importance and paints them with majesty. Her works remind me of stills from a film and I have spent countless hours wondering what is going on in the lives of her protagonists.

"Both Caroline and her work lack any pretension – it is honest, intriguing and absolutely beautiful."

Blurring the boundary between objectivity and lived experience, Walker's paintings reveal the diverse social, cultural and economic experiences of women living in contemporary society, often highlighting overlooked jobs performed by women and the psychologically charged spaces they inhabit.

Walker says: "I take inspiration from the lives of the women I know, those I glimpse in the city around me, and those whose experiences I hear or read about. Ever since I was a little girl I was fascinated by images of women. It was all I wanted to paint and draw, and still is.

"My paintings often depict women who are less visible in society, whether that's because of their personal circumstances or the job they do. One of the main concerns in my work is about asking the viewer to reconsider what or who we overlook in our daily lives."

When painting these subjects, she looks to the composition and framing devices used in 17th-century Dutch genre painting and the painterly immediacy of 19th-century French painters like Edouard Manet, Edgar Degas and Berthe Morisot.

Recent works have seen Walker, who is represented by Stephen Friedman Gallery, cast her eye to her immediate surroundings in East London, and also celebrate the pandemic's key workers for the Southbank Centre's 'Everyday Heroes' exhibition.

"I painted a portrait of Elaine, who works in my local bakers," says Walker. "The painting was reproduced on an enormous banner on the side of the Hayward Gallery, and seeing it hanging there in such a prominent position over Waterloo Bridge gave me an enormous sense of pride – both to see my work there and to be part of a public recognition of the previously undervalued work done by those without whom life would have been even more difficult last year."

Next, Walker will start a residency in the maternity wing at University College London Hospital – a project that has been two years in the making and seen her daughter born during that time in the same department. Returning to the hospital as an artist, she'll be shadowing women working as midwives, nurses and obstetricians. She will also present a solo exhibition at KM21, The Hague, the Netherlands from 28 August 2021 and Fitzrovia Chapel in February 2022. You can see her solo show at MAC Birmingham until September 2021.
About the champion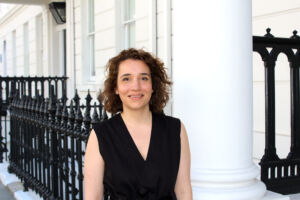 Prior to joining Cromwell Place as membership director, May Calil's more than 10 years in the art world had seen her enjoy stints at The Wallace Collection, the Royal Academy of Arts and Tate. In 2011, she also set up her own consultancy, May Calil Consultants, working with clients including Brunswick Arts, the British Council, Cass Sculpture Foundation, Frieze and Photo London.
"I have spent countless hours wondering what is going on in the lives of [Caroline's] protagonists."