Feature Gianna Dispenza explores the female sitter
Championed by Natasha Arselan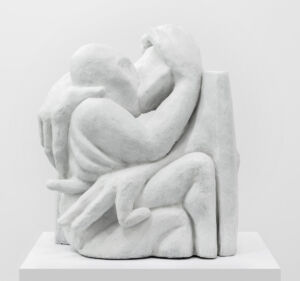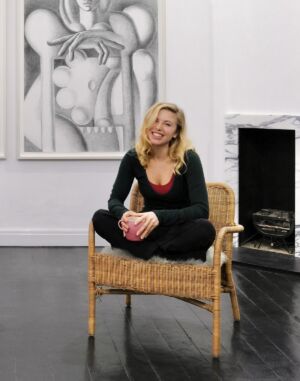 Interview
Gianna Dispenza
Photography
Daniel Greer and Puiyee Won
08 February 2022
Interview
Gianna Dispenza
Photography
Daniel Greer and Puiyee Won
08 February 2022
Entrepreneur and gallerist Natasha Arselan reinvented the traditional auction house when she launched the world's first online-only platform in December 2017. AucArt is now known as one of the leading platforms for emerging artists and acquires work directly from artist's studios around the world. At the end of 2021, Arselan also launched her first gallery space in west London. Its most recent show, 'The Sitter', saw her team up with London-based artist and Royal College of Art graduate Gianna Dispenza.
Natasha Arselan says: "I first met Gianna three or four years ago while she was studying at the Royal College of Art. We had scheduled a short studio visit, but ended up speaking for hours, no small chat either! It was as if we had met in a past life."

She continues: "I admire Gianna's curiosity and tangible approach. She's very connected and free within her practice. She is not just a painter, nor a sculptor – she combines her practice, using natural materials, including clay, charcoal and earth. She is also creating her own natural bio-sustainable pigments and has a greater love and respect for the planet, which is interwoven into her work. The work itself has a bold, powerful yet serene presence, and the discourse of her latest series, 'The Sitter', which I was honoured to exhibit at my space, is massively relevant and important to acknowledge."

Gianna Dispenza adds: "Natasha and I have been brewing this show up for quite some time and it really is wonderful to see it come to life in her beautiful new space."

'The Sitter' series began in 2019, when Dispenza saw a magazine advertisement for men's luxury watches featuring Grand Prix motorcycle racer Marc Márquez, sitting backwards on a chair, facing the camera. She was reminded of Lewis Morley's 1963 photograph of Christine Keeler posing naked in the same position and set about challenging the longstanding tradition of female sitters being depicted as submissive and objects rather than powerful like Márquez. With their insistent eye contact, Dispenza's sitters demand attention.

She says: "A lot of my work is about the tension or breaking point between an expectation and an experience. The gap between the two is usually filled with some complicated mixture of historical and archetypical associations and I'm interested in teasing out some of those nuances. It's usually quite subtle but those moments of slippage have always left an impression on me and made their way into my work, whether it's a magazine ad setting me off on a Homeric inquiry into posture and power across traditions or an unexpected, intimate, conversation with a stranger. For me, these happenings offer up a grey space that I find really important, and humanising."

For spring Dispenza is working on a new collection for a solo online feature at Charles Moffett gallery. A two-person show at The Stable in S-chanf, Switzerland will follow in summer, before she plans to start work on a public sculpture for the town of Ede in the Netherlands in autumn.
About the champion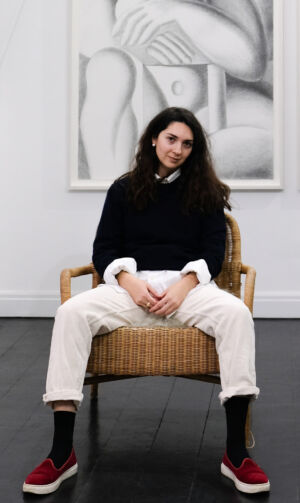 Natasha Arselan is perhaps best known for founding auction platform AucArt to support hundreds of early career and emerging artists around the world. Since its launch, the platform has showcased more than 400 international artists and been praised by The Art Newspaper and Financial Times as one of the leading online platforms to buy emerging art. Arselan also shares her knowledge on art as an asset, innovation and access with publications and podcasts.
"She is creating her own natural bio-sustainable pigments and has a greater love and respect for the planet."