Feature Karimah Hassan and the importance of community
Championed by Trino Verkade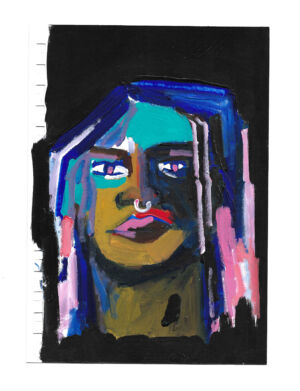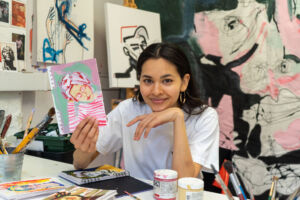 Interview
Karimah Hassan and Trino Verkade
Images
Courtesy of Karimah Hassan and Sarabande Foundation
15 March 2021
Interview
Karimah Hassan and Trino Verkade
Images
Courtesy of Karimah Hassan and Sarabande Foundation
15 March 2021
The Sarabande Foundation was set up by the late designer Lee Alexander McQueen, who left the majority of his estate to support creative talent. The Foundation continues McQueen's ethos of "giving back" by supporting the UK's emerging creatives through subsidised studio space, industry mentoring and scholarships to attend the likes of Central Saint Martins. Under CEO and founding trustee Trino Verkade's leadership, the Foundation has helped more than 100 of the most visionary artists and designers.

Painter and mural artist Karimah Hassan is currently an artist in residence at Sarabande. Trino Verkade tells us why she is a talent to be celebrated.

"Leaving behind her training as an architect, Karimah went to New York where she began her art career by merging the boundaries of community art, street art and fine art. Through her street art projects she engages a broader community and breaks down elitist barriers, bringing other people's stories to life, lifting them up and highlighting them in their own environments. I like how bold her work is, how she captures both stillness and movement and that it really makes you consider her subjects."

Born in Wales with Yemeni and Bangladeshi heritage, Karimah's expressive, bold aesthetic is celebrated for taking stories full circle, from the canvas to the streets. She exhibits her paintings alongside poetry readings and open-mic sessions and creates live paintings at performance events across London and New York in order to highlight the importance of communities in cities.

To fill the void of connection left by the pandemic and the absence of community events, Karimah started an art project, 'The Strangers Yearbook', at the beginning of the first UK lockdown. It documents how people were feeling during this time of uncertainty. Participants were asked to send a selfie and a description in response, which Karimah would then paint and post online. Each one-a-day, sketchbook painting is an immediate expression of Karimah's response to the image and words. The project lives as an ongoing Instagram gallery of more than 150 paintings and she is continuing to paint one each day as lockdown continues. She considers building the 300+ strong community during a time of crisis and making something that extends beyond the paper her biggest achievement and a real labour of love and pain.

Trino Verkade adds: "I am really impressed by 'The Strangers Yearbook' – the fact it's self-initiated and how it encouraged people to share their personal stories along with a digital and revealing portrait of themselves caught on their phone. For some, it was a platform to speak to a larger world about what they were going through and how they felt. Karimah told a different story every day with their words, but their stories also became a visual diary as she painted their portraits. She found a way to connect a global community that was sharing the most unifying and lonely year most of us will experience in our lifetime."

As we are coming out of lockdown and summer is approaching, Karimah will return to completing mural commissions and community events. She is also working on a commission for the Shubbak Festival in London and a community campaign for French Connection.

About the champion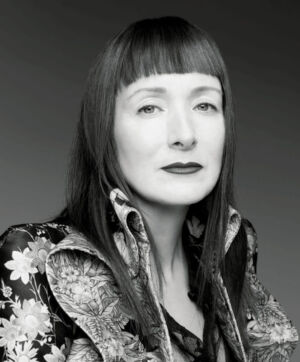 Trino Verkade worked at Alexander McQueen from 1994-2012 as Managing Director, Licensing Director, Director of Store Planning and Special Projects, plus oversaw and managed Savage Beauty, the retrospective of Alexander McQueen's work at the Metropolitan Museum of Art in New York. Following this Verkade was president for Thom Browne, New York and then CEO at Mary Katrantzou, London before returning to Sarabande Foundation as CEO in 2016.

Portrait by Sølve Sundbsø
"Karimah is a selfless artist, and I like that she uses art to elevate others."
Trino Verkade