Feature Painter and digital artist Bokani
Championed by Bolanle Tajudeen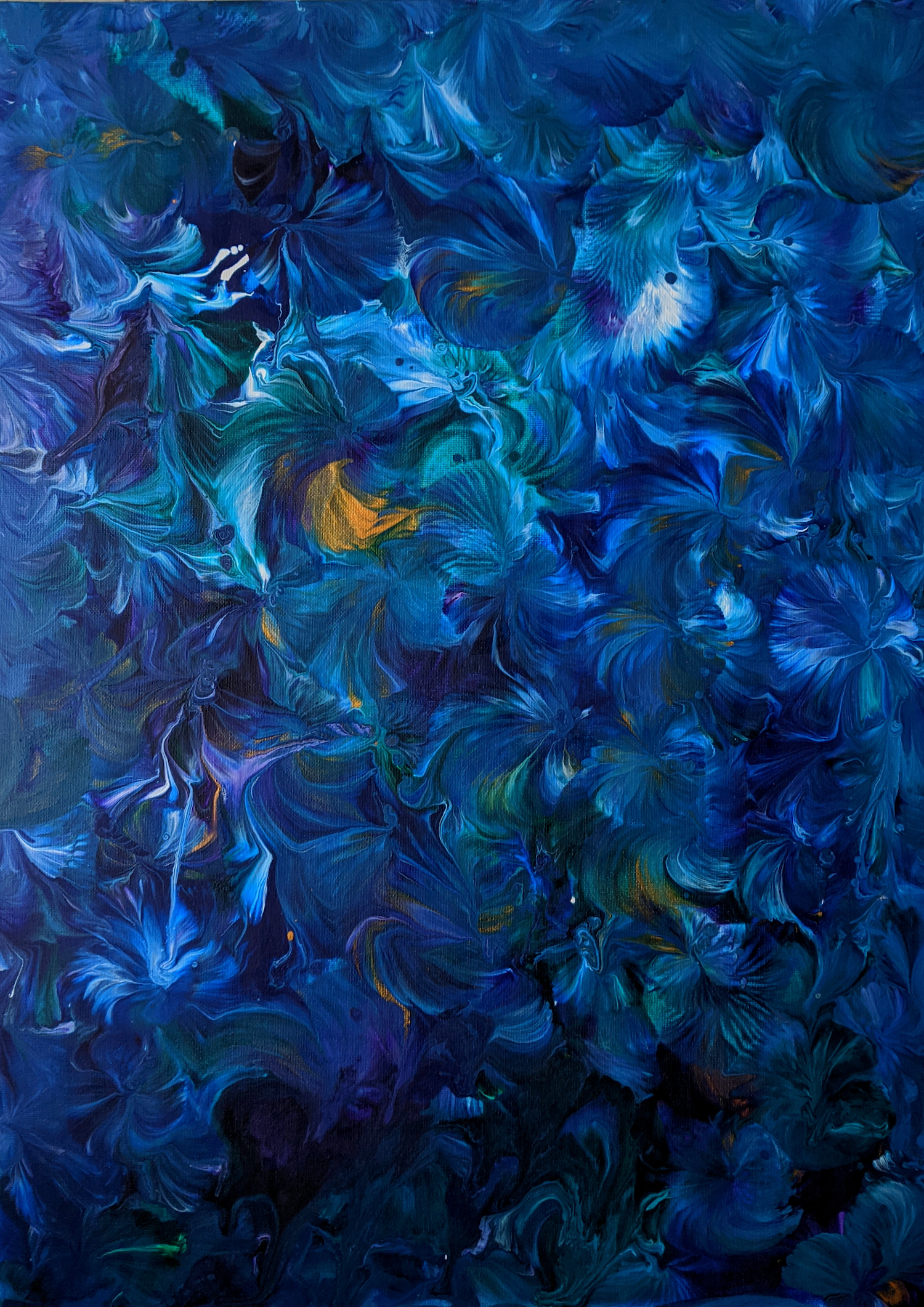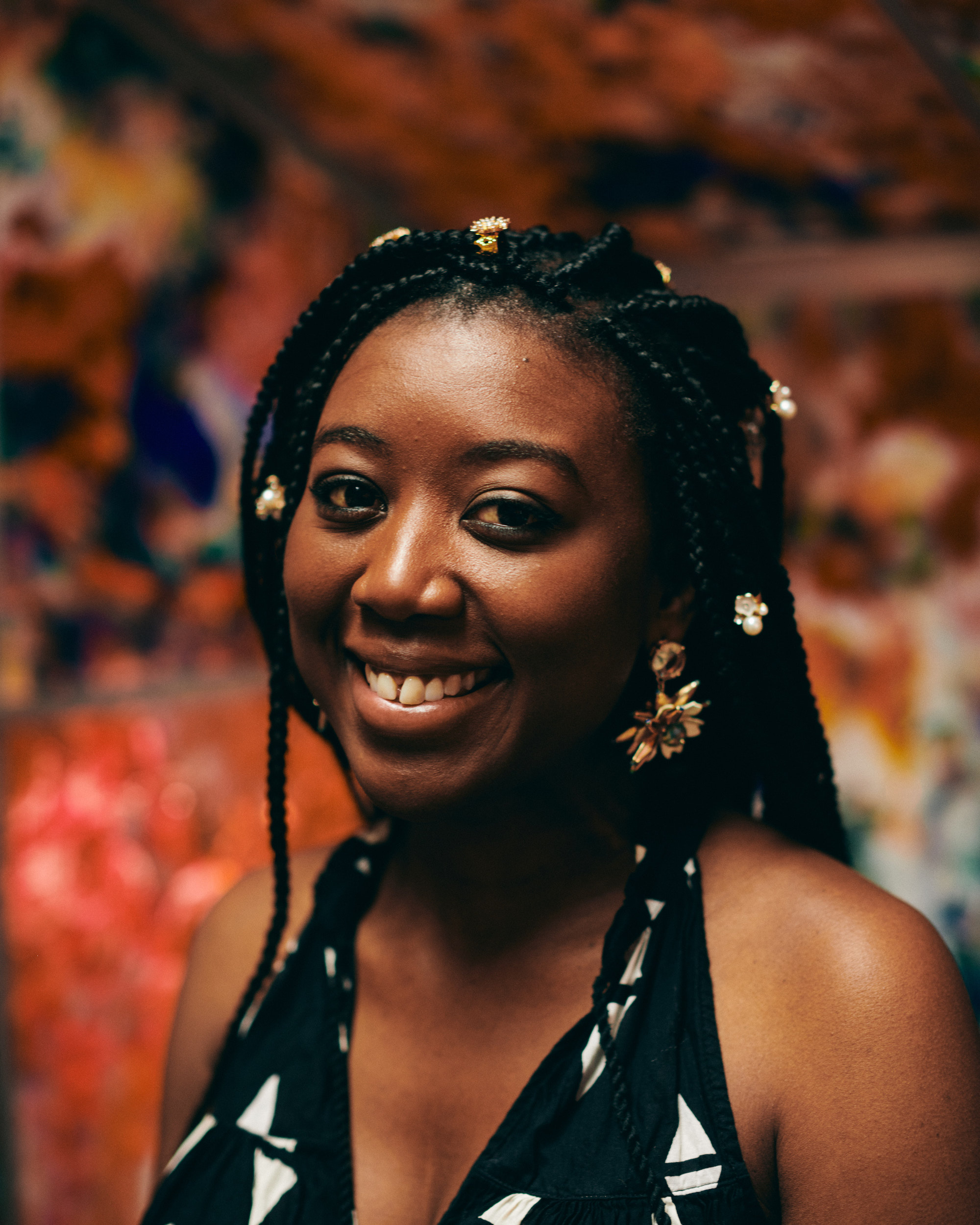 Photography
Nishant Shukla
14 December 2021
Photography
Nishant Shukla
14 December 2021
While studying PR at university, Nigerian-born Londoner Bolanle Tajudeen noticed the inequality and injustice in both the education system and the mainstream art world. It prompted her to become a curator and launch Black Blossoms in 2015 – an expanded curatorial platform showcasing contemporary Black women and non-binary artists. In 2020, Tajudeen launched the Black Blossoms School of Art and Culture, an online learning platform decolonising art education. This was how she first encountered artist Bokani.
Tajudeen says: "I met Bokani when she attended a Black Blossoms School of Art and Culture short course. She was such a passionate student and brought so much knowledge to each class discussion. Bokani has a striking artistic practice ranging from abstract florals that submerge viewers into a trance to her text-based street art practice with statements such as 'I Want a Hot Date, Not a Hot Planet' and 'Pay Black Women'. Her words in her artwork remove the passivity of just looking at art, creating a sense of urgency to be part of a change and create a better world for us all to live in. No matter what space you occupy in the arts, Bokani's work will inspire you to be the best version of yourself that this world needs."

Bokani credits reading a lot of fiction and economics as influencing how she looks at the world. She says: "The questions I want to ask and the conversations I want continue with my work. I am also addicted to podcasts as a way of learning from artists I admire.

"Visually, my paintings evoke natural patterns of fleeting florals and feathery flight, gentle ripples and swirling storms. The patterns I saw in vibrant African prints and rhythmic movement are also ever present. My work is influenced by colour-saturated painters like Alma Thomas, Frank Bowling and Gerhard Richter. Works, especially installations, by Yayoi Kusama, Esther Mahlangu, Theaster Gates and Olafur Eliasson are guiding points of reference for their use of technology, whether ancient like brick-making or algorithmic, to create extraordinary sensory experiences. I am not shy of asking for help, most recently Deborah Roberts, who I hugely admire, provided profound advice."

Bokani's digital works combine her colourful aesthetic and spiritual conversation with the powerful technology influences of our time; machine learning, computer visioning and artificial intelligence. They've been shared on billboards throughout London from the Piccadilly Lights to neighbourhoods across the city as part of the #blackoutdoorart project. She says: "Seeing the work in this public forum has been a breakthrough in thinking about art as a public service as well as presenting new ways to think about scale."

In her next series of clay paintings, she'll be exploring issues of social justice. She adds: "I began these works in the wake of the Black Lives Matter protests. I wanted to join the dots between devastating loss of life, economic structures and historic injustices, which continue to permeate our lives. Clay allowed me to use a different visual language. I needed the physicality to grab hold onto something and reshape it." We can't wait to see the end result.

Before then, you can see Bokani's work in group show 'Port of Call' at Changing Room Gallery until 19 December 2021.
About the champion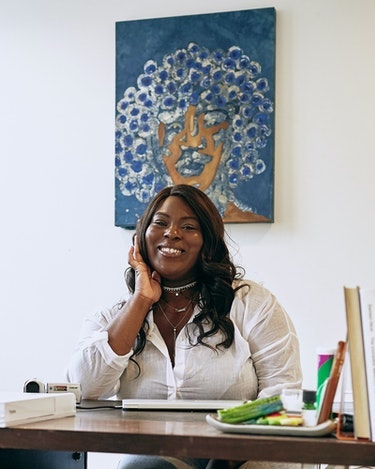 Curator and educator Bolanle Tajudeen is known for promoting artists from underrepresented groups through her Black Blossoms platform and regular exhibitions, panels and screenings. She is also the lecturer of the popular Art in the Age of Black Girl Magic course at Tate, which investigates Black feminist art practices. In addition, she is a regular arts and cultural writer for Dazed and Prospect Magazine and was named by The Dots as one of the 100 creative leaders with a social heart.
"Bokani's work will inspire you to be the best version of yourself that this world needs."