Feature The Evocative Paintings of Sikelela Owen
Championed by David Remfry RA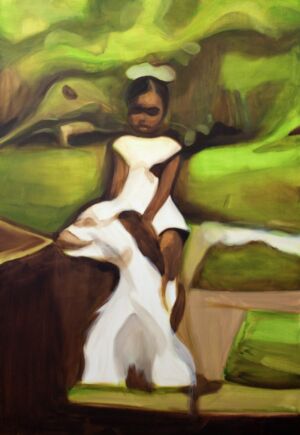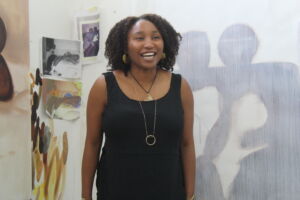 Interview
Sikelela Owen and David Remfry RA
18 August 2021
Interview
Sikelela Owen and David Remfry RA
18 August 2021
An artist of international acclaim, David Remfry RA is known for works that evoke human character and connection. From large-scale watercolours of dancers to drawings of dogs and their owners, he is inspired by life in London (his current home) and New York (where he lived for 21 years). He has been commissioned by the likes of Stella McCartney and Fortnum & Mason, and his work has been exhibited solo at institutions such as MoMA, New York and the V&A in London.

A member of both the Royal Academy and the Royal Watercolour Society, in 2016 Remfry was appointed Professor of Drawing at the Royal Academy Schools, a role that has since brought him into contact with the brightest new artistic talents – among them Sikelela Owen.
Remfry recalls fondly when he first came into contact with Owen's paintings. 'I met Sikelela Owen at a Royal Academy of Arts Schools Charity Auction having not previously known her work, but loved Mamoyo, the painting she had donated (oil on canvas paper) of a small child standing facing forward, her eyes looking to the left, her arms are behind her, and she is wearing a green sweater and a darker green skirt. The overall feeling is of that quiet anticipation one sometimes sees in children.'

Like Remfry, Owen (b. 1984) – who studied painting at Chelsea College and the Royal Academy Schools – is inspired by people and ideas of community and intimacy. From friends and family to the relationships in between, her paintings capture the emotional echo of moments captured in time. This is reflected in her distinctive style of loose figurative painting, laid down in hazy layers on the canvas – like both the loss or the recollection of memories past.

This unique and evocative style has made Remfry a passionate collector of Owen's work. 'Last year I was on the selection committee for the Summer / Autumn exhibition at the RA and grabbed a large painting by Sikelela for my room. It was of a woman on a beach. She is wearing a light sandy coloured swimming costume and brimless hat. The rich brown of the figure almost a silhouette against the pale sand and thin strip of blue green ocean and sky. It had enormous yet quiet power.'

Among Owen's recent solo exhibitions include Together at James Freeman Gallery, London; 'Supper, Sleep and Sorrow' at LdM Gallery, Florence; and 'Love, Eat, Sleep, Repeat' at HSBC Canada Place in London. In 2014 her work was included in '100 Painters of Tomorrow' at Beers Gallery and in the Thames & Hudson Publication. Her accomplishments go on: in 2019 she was awarded a Fellow's Residency at the British School at Rome, and in 2020 her work was shortlisted for the John Moores Painting Prize.

Colourful and expressive, Owen's work draws on personal and wider imagery, and carries the legacy of various painters throughout art history. 'When I look at Sikelela's work I see echoes of Edward Munch in the application of paint, and of Daumier in both the painting and the humanity,' says Remfry, whose admiration for Owen's painting remains as clear as when he first saw her work – a memory now crystallised:

'I feel fortunate to own the painting of Mamoyo.'
About the champion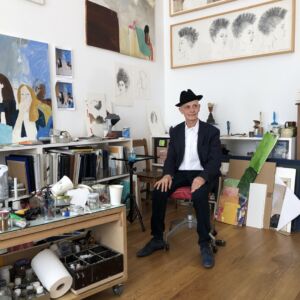 David Remfry RA studied Art and Printmaking at the Hull College of Art. Since 1973 he has exhibited regularly at leading institutions, galleries and museums across the UK, Europe and the USA. He has been awarded an MBE for services to British Art in America (2001) made a Member of the Royal Academy of Arts (2006), where he is now Professor of Drawing at the Royal Academy Schools. The Royal Watercolour Society is currently organizing a retrospective and book of his watercolours in 2022 to be held at the new RWS Whitcomb Street Gallery curated by James Russell.
"[Her work has] enormous yet quiet power."
David Remfry RA