Spotlight Headwear designer Leo Carlton
Championed by Tamsin Blanchard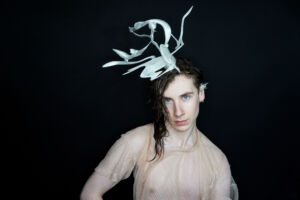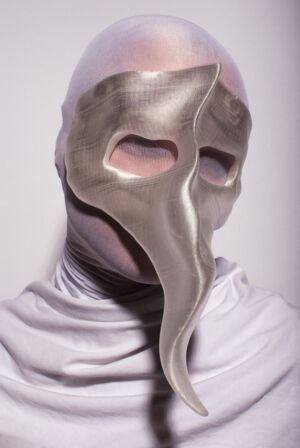 Interview
Tamsin Blanchard & Leo Carlton
20 April 2022
Interview
Tamsin Blanchard & Leo Carlton
20 April 2022
London-based journalist Tamsin Blanchard has been advocating for a fairer, cleaner fashion industry for more than a decade and has written several books including Green is the New Black: How to Change the World with Style in 2008. She is also a member of Fashion Revolution's global coordination team and the curator of Fashion Open Studio, which showcases the work of designers who are finding solutions to the many social and environmental problems that plague the fashion industry. In April 2020, during lockdown, she invited headwear and fashion artefact designer Leo Carlton to contribute to the initiative.
Blanchard says: "I met Leo Carlton's work before I met them. I was invited to their exhibition at Sarabande Foundation called 'HEADF*CK: A Millinery Testament'. It was a joint show with fellow milliner Jo Miller, and I was utterly intrigued. It was an extraordinary show, part performance, part fashion, confrontational, beautiful and poetic, unlike anything I'd ever seen."

That was in May 2017. Blanchard then met Leo at the studio they shared at Sarabande and interviewed them for Tank Magazine where she was working at the time.

Blanchard says: "I loved their dedication to craft, their gentle personality, their sharp sense of humour (one of the hats in the show was called 'Tinnitus' and it had a bell that would ring, how could that not make you smile?) and above all, I sensed a kindred spirit who was concerned about overconsumption and the environmental impact of the fashion industry. We have since kept in contact and collaborated together."

When asked to contribute to Fashion Open Studio in 2020, Leo made a short film that showed their love of nature to tie in with their collection of 3D-printed PLA (polyactic acid) headpieces, which are made from biodegradable fermented plant starches and developed in virtual reality.

Blanchard adds: "The idea is they could be made on demand, to reduce waste and overproduction. Eventually, in the right composting conditions, they could be returned to the earth. I love the way Leo pushes craft, working with AR (augmented reality) and the digital world while continuing to be true to their own unique vision. We all need a little Leo in our lives, even if only in the form of a 3D-printed Alice band."

Carlton combines VR sculpts, 3D scanning and printing with a test lab of biomaterials. Using 3D scans of a head, face or body lends to a bespoke process and ecologically friendly and inclusive outcome.

Carlton says: "I feel a sense of freedom working with technology intuitively and am creatively fulfilled by releasing emotive sculpts in VR. Learning how to use 3D software was a huge stepping stone from traditional millinery, but the possibilities excite me just like the materials I am able to work with.

"I'm currently working with an oyster shell-based printing filament for larger outcomes and testing mycelium substrates to grow within printed moulds. I'm also learning how to knot with natural hemp braids, using books I discovered on creative ropecraft that my late grandfather wrote and drew pages of carefully annotated diagrams for."

Carlton will be presenting their new work in an upcoming exhibition in the digital metaverse and real world at the Sarabande Foundation in May.

About the champion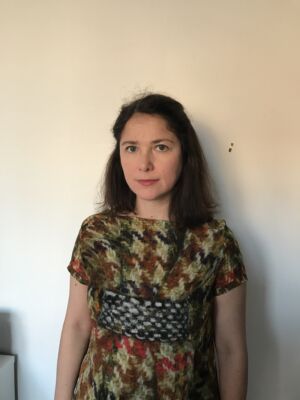 In her previous roles, fashion journalist and editor Tamsin Blanchard has contributed to the Telegraph Magazine as fashion features director, The Observer as style editor and to the fashion desks of Tank Magazine and The Independent. She also swapped columns for classrooms to teach fashion journalism at Central Saint Martins. In addition to continuing to write for The Guardian and Vogue among others, she is currently editor of Hole & Corner magazine, which celebrates craft and skill.
"I sensed a kindred spirit who was concerned about overconsumption and the environmental impact of the fashion industry."