Interview Artist Ross Taylor
Championed by George Mingozzi-Marsh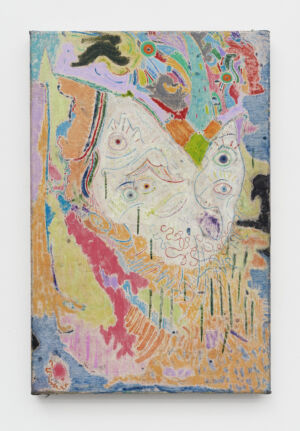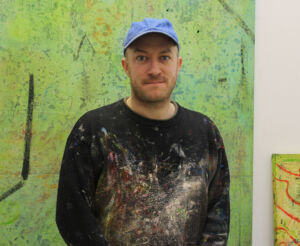 George Mingozzi-Marsh opened his first gallery under the William Benington Gallery name in 2013 before forming the Brooke Benington partnership with Lily Brooke in 2019. Together, they've created an impressive national and international exhibition programme, which includes residencies in Mexico City and at the Buckinghamshire sculpture park, Contemporary Sculpture Fulmer. In October 2022, they're also bringing together sculptor Jesse Pollock and painter Ross Taylor for the inaugural exhibition in their new Brooke Benington's Fitzrovia gallery.
George Mingozzi-Marsh says: "My first love was painting, and as a teenager that passion developed into a full-on obsession with abstract expressionism. However, coming of age in the art world in the '00s, it seemed that abstract painting was neither fashionable nor interesting. Subsequently, through a combination of accident and design, I built my early career with a specialism in contemporary sculpture, opening my first gallery in 2013. In the following years, I glimpsed painters through my blinkers, but it wasn't until Lily Brooke and I decided to start Brooke Benington in 2019 that I allowed myself to indulge in the idea of painting once again. I found that, much like my teenage self, I had an appetite for it that needed sating. Lily and I took to asking our artist friends for recommendations."

Mingozzi-Marsh adds that it was artist super-couple Olivia Bax and Jean-Philippe Dordolo who first introduced him to Ross Taylor. He says: "A quick search later, and I was obsessed. His paintings were wild and far-reaching, seemingly scraping the far recesses of his brain for inspiration. Careering between abstraction, and surreal (sometimes monstrous) figuration – there was chaos to them that closer inspection revealed to be routed in a deliberate, methodical process. I couldn't understand how we had lived in the same city, at times working just around the corner from one another, for our whole adult lives and yet I had never encountered his work. It turns out that while his career and popularity have flourished in mainland Europe, his last solo show in London was in 2014, a year after I opened my first gallery."

Taylor creates his paintings, cut-outs and installations through a long process of drawing, painting, scratching, piercing and cutting the surface. His thick layers and multiple narratives reveal an inner world of personal stories and fictional characters, developed over time in the realm of the studio. For Mingozzi-Marsh, there couldn't be a better choice than the artist who re-ignited his fire for contemporary painting to help open his new Brooke Benington Fitzrovia gallery.

The inaugural two-person dialogue exhibition, 'By The Skin of Our Teeth', with sculptor Jesse Pollock, will open at Brooke Benington in October, and mark the end of a very busy autumn for Ross Taylor, featuring three shows over a four-week period. His first solo show in Germany is also opening at Galerie Russi Klenner at the start of September, followed by an exhibition at Victoria Miro gallery in London, celebrating 30 years of Cubitt – an organisation Taylor has been involved in for more than 10 years.

Taylor says of the upcoming 'By The Skin of Our Teeth': "I really enjoy this reference to the mouth, to teeth, to gestation. I sometimes see my studio as a stomach, a swilling and churning dual sphere of production and consumption where all that enters is incessantly gnawed, singed and regurgitated. I like to think about paintings coming from this dark space, set amongst the hypnagogic dark and dank terrior that represents the ambiguity of the creative process. A place, fizzy with habits and indecision, where practice and method become redundant, and in their place the monstrous and all that is unidentifiable seep. Bad habits, good habits, objects made from boredom, from damage and internal mutterings. The kinds of actions and behaviours that belong to the margins of your day, where you pick and scratch, wait and stare, allowing your attention to be removed from the matter at hand. A place in which in-built fictions can intermingle, morph, and collide, and maintain the hallucinations, patterns and images that unlock the biological happenings and evolutionary knowledge that the artistic journey encapsulates – where a work might 'happen'."

About the champion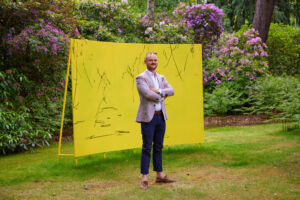 George Mingozzi-Marsh studied Fine Art at Kingston Art School before working at Christie's auction house for several years. In addition to opening his own gallery spaces – William Benington Gallery in 2013 and later Brooke Benington – he established Contemporary Sculpture Fulmer in 2017. It's a private commercial sculpture garden in Buckinghamshire, which surveys the breadth of contemporary sculptural practice in an annual spring to autumn exhibition programme.
"I was obsessed. His paintings were wild and far-reaching, seemingly scraping the far recesses of his brain for inspiration."