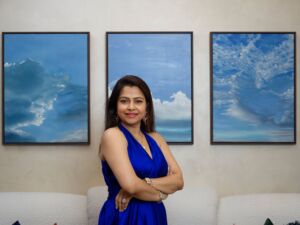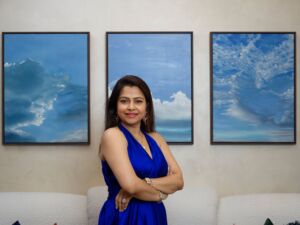 Interview British-Bangladeshi Art Patron Nadia Samdani MBE
Interview
Nadia Samdani MBE
30 January 2023
Interview
Nadia Samdani MBE
30 January 2023
More than 160 artists and collectives will be exploring Bangladesh's nuanced relationship to words and water when the Dhaka Art Summit (DAS) holds its sixth edition at the Shilpakala Academy this week, from February 3-11. Organised by the non-profit Samdani Art Foundation since 2011, DAS has become a significant fixture on the global cultural calendar, encouraging discourse and engagement with South Asian art and connecting Bangladesh to the rest of the world.

The nine-day biannual has developed under the leadership of philanthropist and art collector Nadia Samdani MBE and her husband Rajeeb Samdani. Regular fixtures on ArtReview's Power 100 list, the Samdanis have an incredible home in Dhaka and personal art collection that includes Bangladeshi and international artists such as Subodh Gupta, Tracey Emin, Chris Ofili, Zaha Hadid, Michael Armitage and Naiza Khan.

The couple are also building an art centre and sculpture park in Bangladesh, called Srihatta, which will feature a 5,000-square-foot gallery designed by Kashef Mahboob Chowdhury, one of Bangladesh's most notable architects.

For her services to global art philanthropy and supporting the arts in Bangladesh, South Asia and the UK, Nadia was awarded an MBE in the Queen's 2022 Birthday Honours list.

THE WICK: Who is your ultimate Monday Muse?
Nadia Samdani: The strong women of Bangladesh who inspire me every day. They're the backbone of our society. Everywhere are stories of trailblazing entrepreneurs, sportswomen, scientists, farmers and artists. Whether seeing young women every morning dressed up in colourful clothes on their way to work, or being surrounded by talented young women in my team at the Dhaka Art Summit, it's a reminder of how much I learn from them.
TW: What does a typical Monday look like for you?
NS: In Bangladesh, Monday is actually the second day of the working week. By then I'm in my stride. I start the day with a HIIT workout or a yoga class, which focuses me for the day ahead. I catch up with my team and we immerse ourselves in everything that's going on. We work hard but we always have fun with what we do. By the evening I'm ready to unwind, either spending time with the kids or hanging out with friends.
TW: What is the mission of the Samdani Art Foundation and how are you seeing a shift in perceptions towards Bangladeshi artists?


NS: From day one, our Foundation's mission was to support and champion Bangladeshi artists, and increase their international exposure. Back in 2011 when we started out, there were no such existing platforms or foundations, so we created one. Since then, it's evolved to include opportunities such as production grants, residencies, education programmes, and exhibitions, as well as of course the Dhaka Art Summit – now a globally recognised art and architecture platform, which had nearly half a million visitors in 2020. It's shone a spotlight on the region that never existed before. The art scene in Bangladesh is an exciting one and, over the last decade, the world has taken note.
TW: Recently, the Foundation and Musée Guimet in Paris came together for photographer Anne de Henning's exhibition 'Witnessing History in the Making'. What did you hope to achieve with this exhibition?
NS: The exhibition tells the story of the Bangladesh Liberation War (1971) through the eyes of Anne de Henning – a young photojournalist who was travelling through the country at the time, documenting life in the warzone and the human stories she came across. Remarkably, Anne's incredible images remained unseen for decades – they only surfaced when, at the 2020 edition of DAS, we held an exhibition commemorating the 100-year anniversary of Bangabandhu 'Sheikh Mujibur Rahman'. Among Anne's images was a colour portrait of him shot in 1972, which was unlike anything the country had seen before (images of Bangabandhu were destroyed in the coup of 1975). Her trove of images are now an important part of the history and the founding of Bangladesh, to bring them to Anne's native city of Paris was a way of honouring that. It was also great to be able to bring that story to new audiences.


"The art scene in Bangladesh is an exciting one and, over the last decade, the world has taken note."