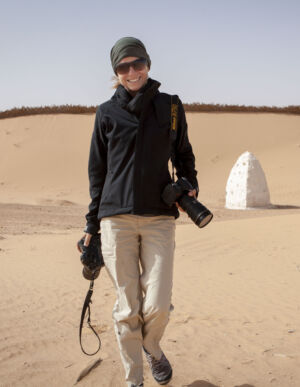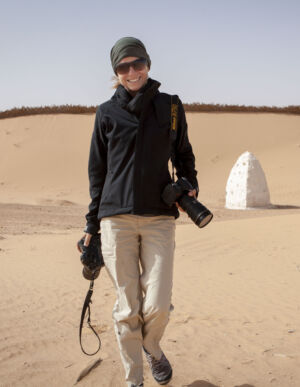 Interview Humanitarian photographer Alissa Everett
Alissa Everett captures more than images with her camera. The award-winning Nairobi-based photographer and artist inspires change, captures poignant moments of humanity and celebrates hope in her reframing of conflict.

Californian born Everett – an intrepid traveller – has been working for two decades, in over 130 countries across six continents. Since 2003, she has covered wide ranging contexts of daily life amidst the gritty political fracture, brutal warfare, environmental crises or humanitarian issues faced by Iraq, Darfur, Gaza, South Sudan, Afghanistan, DR Congo to name a few.

After serving in the Peace Corps in Senegal, West Africa, and working as an investment banker with Robertson Stephens Alissa has become known for celebrating humanity even in the most harrowing conditions and has worked extensively in conflict zones around the world – most recently on the Ukrainian border with the International Organization for Migration (IOM) to document the humanitarian response efforts there.

In 2007, to raise awareness and funds for victims of human rights abuses worldwide through her documentary photography, Everett founded the non-profit organisation Exposing Hope. With a team of volunteers, she has held eight photography exhibitions across the US as well as selling her images to philanthropists and collectors to raise funds to support local grassroots organisations to effect change locally.

Everett will next be showing her work, which has previously been recognised by the International Photography Awards, Sony World Photography Awards and the International Women's Media Foundation, at the Venice Biennale in Covering Beauty with the European Cultural Centre this month.
THE WICK: Who is your ultimate Monday Muse?
Alissa Everett: Sebastião Salgado has been a regular inspiration to me. His images are dignified and beautiful, touching on human spirit, despite brutal conditions. And his portraits always give to me a sense of connection that I aspire to in my work.
TW: Talk us through a typical Monday.
AE: When I'm home, I like to start my week early. I slip out of the house before anyone wakes to go to my favourite 7am spin class, have a green juice, then start my day. I'll often spend a couple of hours in a coffee shop to get my week organised. Living in Africa, there are always unexpected complications that pop up – the power or internet going out, road closures, appointments across town, currently a fuel distribution crisis leaving most of the city in fuel lines. Being flexible and managing expectations is key.
TW: How did your journey into covering beauty within areas normally associated with conflict begin?
AE: At 15, I spent a summer on an exchange programme in Mexico and it opened my eyes to a different world – poverty, urbanisation, culture, a different way of life. I think I've walked through the world looking for that which I could learn ever since. My seeking has rewarded me with new perspectives on family time and raising children; community and the value of shared experiences; work and women's role in society. The more I travelled, the more my own stereotypes were challenged, the more I wondered how anywhere in the world could be different. I seek to share images and stories that challenge the view that any of us are "right" in the way we live, that there is beauty in the diversity of humankind.
TW: You've had a wide-ranging career. How do you think your previous experiences inform your work?
AE: My work is about connection. I am connected to a place, a people, a village, a person, and then I photograph. The ability to connect deeply with people of another culture, language, history I learned in the Peace Corps. It taught me patience and how to remove myself from my being with others. I learned to be open and receptive, which creates the opportunity for others to impart their lives to me. I feel that people feel that I care, that I am not there to get the story, but to learn what they have to share. My experience in banking highlighted for me that just as I could be at home in an African village, I could be at home in a boardroom. That ultimately, we all have more in common than in difference, and it is up to each of us to seek to find the beauty in others.
"I learned to be open and receptive, which creates the opportunity for others to impart their lives to me."