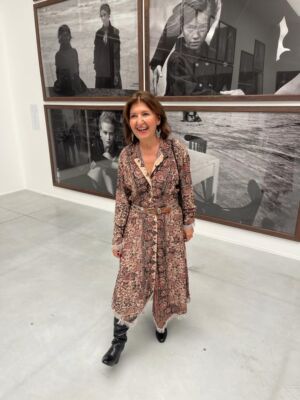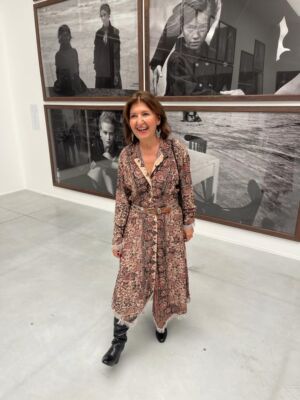 Interview Photo London's Co-founder Fariba Farshad
Photo London returns to Somerset House this week from 12-15 May, bringing together the world's leading galleries for one of the key dates on the professional photography calendar. Now in its seventh year, the annual photography fair will welcome 106 exhibitors from 18 countries. So, who better to be this week's Monday Muse than its founder Fariba Farshad?

Born in Iran, Farshad moved to Paris in 1983 before London in 1986 where she started her academic career at the University of the Arts London. There she was instrumental in the development of the IT Research and Development Unit, the centre for research in the application of technology in the arts and art education. She has been a pioneer of creative education ever since as well as an award-winning curator and champion of Iranian artists – her globally touring exhibition, Burnt Generation, introduced many young contemporary Iranian artists to a western audience.

Along with Michael Benson, she is also the co-founder of Candlestar, a renowned cultural consultancy, which produces Photo London and specialises in the development of new initiatives in art and education such as the Prix Pictet global photography prize and the Condé Nast College of Fashion & Design.
THE WICK: Talk us through a typical Monday.
Fariba Farshad: Monday starts like any other day. I am woken up by my cat, Chelsea, demanding her breakfast. Then after a quick coffee I go to the gym for weight training. After which I am ready for anything the week can throw at me… usually an array of surprises. No week is ever the same as there is always so much going on and so many amazing creative challenges on the horizon. It means that it is essential that I spend time with my brilliant long-suffering assistant who helps me navigate my day and amend and plan the week.
TW: Who are the new cultural talents on your radar?
FF: Just before we started Photo London, I curated Burnt Generation, which featured a group of young Iranian photographers. The show was a huge hit and I think it is about time for a follow-up, perhaps focusing on Iran's brilliant and courageous women photographers.
TW: A sense of place is important to your work. What are your favourite places to be inspired?
FF: I love the energy and faded glories of New York and Venice, but I have been particularly thrilled to discover the depth of London's vibrant photography scene.
"The art world has learned to stop being snootily dismissive about photography."