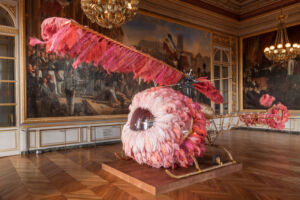 Discover Joana Vasconcelos
Think of the Portuguese artist Joana Vasconcelos and that tampon chandelier springs to mind. But she has created other dazzling works too, among them Lilicoptère, a gilded helicopter embellished with thousands of rhinestones and pink ostrich feathers. Exhibited at the Palace of Versailles in 2012, it recalls the opulent — dare we say outlandish — aesthetic of the Ancien Régime.
Unsurprisingly, the artist's flamboyant, large-scale sculptures made out of everyday objects such as telephones and saucepans have scored her global recognition and solo exhibitions across Europe. When guidelines allow, she'll unveil her new Wedding Cake installation at Waddesdon Manor. Watch this space.
Share