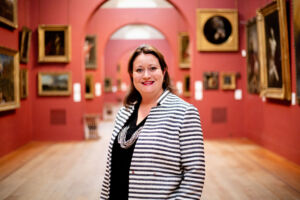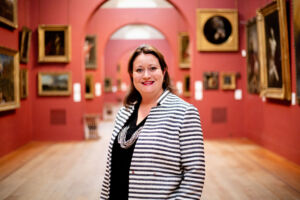 Interview Jennifer Scott shares Dulwich Picture Gallery's plans
As the Sackler director of the world's oldest purpose-built public art gallery, the Dulwich Picture Gallery, Jennifer Scott oversees a world-class collection that includes works by Gainsborough and Rembrandt. It's no easy feat at the best of times, but 2020 brought many challenges including an attempted Rembrandt theft and forced closure due to the pandemic.

Fortunately, Scott has an impressive career to draw on that includes stints at The Holburne Museum in Bath as director and curator of paintings for the Royal Collection Trust. She has also worked in the curatorial department of The National Gallery and is considered an authority on the Dutch and Flemish Golden Age.

Since joining the Gallery in 2017, Jennifer has established a vision – and a reputation – for the institution as an inspirational cultural destination accessible to all: to 'Find Yourself in Art', as its mission goes. Her first curated exhibition in 2019, 'Rembrandt's Light', took the viewer through an immersive journey through the artist's pivotal middle years, testament to her ability to find new ways of bringing the arts to life.

As the Gallery prepares to reopen with 'Unearthed: Photography's Roots' – a comprehensive look at the evolution of photography from the 1840s until the present day through the subject of nature – we caught up with Jennifer to discuss the challenges of 2020 and what the gallery has in store for us for 2021.
THE WICK: The Gallery reopens this week. What are you most excited about and what can visitors expect?
Jennifer Scott: The Gallery is going to come back to life. Dulwich Picture Gallery was built for the enjoyment of the public, so it has been suspended in unnatural silence for 14 long months while its doors have been closed. Now, at last, the paintings can enter into conversation with visitors again, and vice versa.

Our summer season is all about new beginnings. Our lead exhibition, 'Unearthed: Photography's Roots' [on view until 30 August 2021], is an explosion of colour and nature through 180 years of still-life photography. Also, visitors will find an entirely fresh presentation of our Old Master collection, featuring familiar faces and surprising encounters. The most striking new element is our visitor welcome hall, which has been transformed by Sinta Tantra's mural 'The Grand Tour'. Sinta has created an uplifting and inspiring experience of entering the Gallery space – the ideal antidote to lockdown. 

TW: The Gallery's tagline is "Find Yourself in Art". In what three ways do you find yourself in art?

JS: The options for 'finding yourself in art' are limitless. Everyone who comes to the Gallery can draw out personal connections through 'oh, wow!' visual encounters. Perhaps Gainsborough's portrait of 'The Linley Sisters' will unlock a happy family memory. Perhaps the yellow light streaming through Sir John Soane's Mausoleum windows will have a healing, meditative effect. Perhaps you'll smile when enjoying a unicorn-flavoured ice cream in our gardens. Perhaps you'll sit on Peter Randall-Page's 'Walking the Dog' sculpture and look up at the clouds. Perhaps you'll rediscover the pleasure of making art at one of our hands-on events. Or perhaps you'll simply bask in the experience of seeing real-life art again. All of the above are what I would call 'finding yourself in art'. It's personal, it's fun, and it's for everyone. 
TW: What do you think makes this collection so special?

JS: n a nutshell, I would say it's because we have paintings fit for a king. The core collection was brought together by two art dealers for the King of Poland, who was deposed before taking ownership of (or paying for) the artworks. Luckily for us all, these masterpieces found their home in Dulwich, in a building that was designed to show them at their best and – as Charles Dickens said in 1856 – with 'an unusual absence of glare and bustle'. 

Our scale is not overwhelming, and the Gallery is set in beautiful gardens – everything you need to 'find yourself in art'. I may be a little biased, but I happen to think it's the loveliest art gallery in the world.
TW: Who is your ultimate Monday Muse?
JS: Am I allowed dead people? If so, Virginia Woolf. I recently re-read A Room of One's Own. Her notion of unleashing our inner poets takes my breath away. 

TW: What's the book you would pass on as a gift to someone? 
JS: Mary Beard's Women & Power: A Manifesto. I admire how she combines profound scholarship with vulnerability. She is, I believe, one of the defining voices of our time. 

TW: If you could own any artwork in the world, which piece would it be?
JS: 'Ginevra de' Benci' by Leonardo da Vinci from the National Gallery of Art, Washington DC. I got lost in its spell when I was 16, and realised I wanted to spend my life trying to understand as much as I could about great art and to share that feeling with as many people as possible. It was like falling in love.

JS: Success comes not by wishing, but by hard work, bravely done.

TW: The past year has seen the art world undergo a massive digital shift. How does the Gallery plan to harness this virtual and technological revolution?
JS: I am sure that technology will soon surpass anything that I can presently even imagine. We have learnt a great deal in the past year about how to leverage digital platforms to reach broader audiences than ever before. We are a Gallery born out of innovation – as the world's first purpose-built public art gallery, we honour our founders by remaining relevant for our audiences. Keeping alert to technological advances in the art world is part of that.
"I may be a little biased, but I happen to think it's the loveliest art gallery in the world."