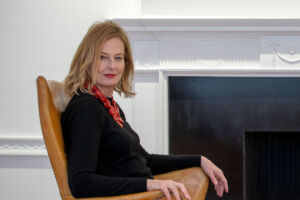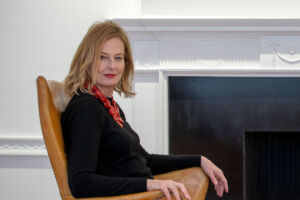 Interview Gallery director and curator Dame Julia Peyton-Jones
Interview
Dame Julia Peyton-Jone
21 March 2022
Interview
Dame Julia Peyton-Jone
21 March 2022
Dame Julia Peyton-Jones is perhaps best known for being the director of London's Serpentine Gallery from 1991 for 25 years, and helping to turn it into one of the most successful galleries in the world – her outstanding contribution earned her the title of DBE (Dame of the British Empire). In addition to helping to increase visitor numbers to over a million people a year, she inaugurated the annual Serpentine Pavilion commission, which invites an international architect to create a temporary structure to host events during the summer. Zaha Hadid, Frank Gehry, Herzog & de Meuron and Ai Weiwei have all previously designed structures.

In October 2015, Peyton-Jones announced her departure from the gallery and took on perhaps her most challenging role yet – motherhood. She also returned to art making after giving it up 30 years prior to become a curator. In August 2021, she released a book celebrating both. Created in the lead up to and during the pandemic, Pia's World is a visual diary of her life with her three-year-old daughter, Pia, over the course of a year, featuring a beautiful series of drawings executed in ink, charcoal, pencil and watercolour.

Peyton-Jones serves on several boards, including The Courtauld Institute of Art, London and the Queen's Platinum Jubilee Pageant Commercial Advisory Board. Since 2017, she has also been the senior global director of special projects at Thaddaeus Ropac in Salzburg, Paris, London and Seoul.
THE WICK: Talk us through a typical Monday.
Julia Peyton-Jones: It very much depends on what time Pia wakes up. It depends on whether she's woken up several times in the middle of the night, or sleeps until 7:15am and has to be coaxed out of her bed — usually by saying that her little dog, which she named Rosy Red, is waiting for her downstairs. Typically, I set my alarm for 6:45am and cram everything in before Pia goes to school at 8am. That's just the getting up part, but everything else has its own joys and challenges thereafter.

I work at the gallery for some part of every day, which amounts to three and a half days a week, and balance doing my other projects, mainly my own art, around that time.
TW: Who is your personal Monday Muse?
JPJ: Funnily enough, I'm heading to the book launch of psychotherapist and author Julia Samuel, so she's very much on my mind at the moment. There used to be a group of Julias that I was a part of — all incredible women, hugely intelligent, sensitive, capable, successful and aware. Especially with her upcoming book launch for Every Family Has a Story, it is a reminder that she tackles such important subjects and is also a truly remarkable woman. All the Julias in that group were — it was the most exclusive club in London, and I was very proud to be a part of it.
TW: What were some of your proudest achievements during your tenure at Serpentine?
JPJ: I suppose I'm most proud of the fact that the organisation continued to develop and grow. That its aspirations remained at the forefront of everything we did, particularly our support of artists, architects and cultural practicioners in every possible sense, as well as our fundamental belief in embracing the public in the widest possible terms. I'm proud of our commitment to education and knowledge, and to the extraordinary team that I worked with. It was an incredible privilege to do what I did, even when it had its challenging moments. Every day had new problems to be solved and new challenges, but it was thrilling beyond measure, and that excitement never left me. I learned something new every day, and to learn is such a stimulating and wonderful position to be in.
TW: What are some of your ambitions for Galerie Thaddaeus Ropac?
JPJ: To draw attention to the work of the artists we represent to the broadest possible public. That means connecting them with all those collectors globally who are supporting artists by buying their work through the gallery, and presenting shows which are really stimulating and engaging, rigorous and enjoyable.
"The good thing about being my age is that I've been so fortunate to already do so many things, so there's not that same fear of missing out."