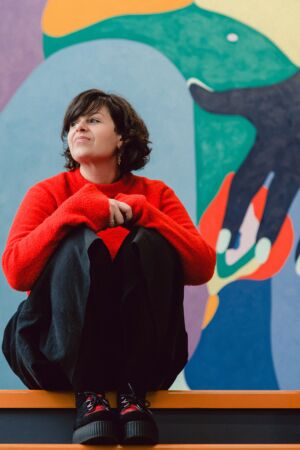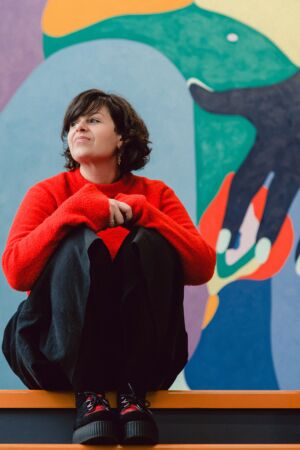 Interview Multidisciplinary artist Helen Beard
Adapting found imagery from magazines, online and pornography, British artist Helen Beard explores themes of gender, sexual psychology and eroticism in her technicolour creations. Her bold and visually exciting depictions of female desire help to take back ownership from the male gaze, making women the subjects, not objects. After working as a wardrobe stylist and art director in the film industry for 15 years, art has recently become Beard's main focus and she's experimented in paint, collage and needlepoint. The result has inspired solo exhibitions at Newport Street Gallery, Unit London and Reflex Amsterdam, her first solo show outside of the UK.
THE WICK: Who is your ultimate Monday Muse?
Helen Beard: I think my ultimate Monday Muse would have to be Louise Bourgeois. I love how analytically minded she was and that her work is deeply personal, drawing on all aspects of her life from childhood to motherhood. She became hugely prolific in later life after a MoMA retrospective in 1982, when she was 70. She is hugely inspiring.
TW: Your work is known for its themes of human identity and sexuality. Why do you find sex so inspiring as a subject matter?
HB: My work is preoccupied with sex as I think it is one of the most important subjects in our lives, and most of us are preoccupied by it. It is what drives us biologically and is fundamentally important in our relationships, yet when women make work about it, it is seen as an outré act. My relationship of 31 years really cultivated an environment where I could express my desires and enjoy my sexuality and I think this was where my paintings were borne from.

My latest body of work consists of a series of typographic needlepoints. It has a working title of Everything I Have Ever Wanted Undone and each word has the prefix 'un'. We are living in such uncertain times and certain words have gained gravitas during the pandemic: every day we wake up and there are a new set of rules to live by. I wanted to make some work to reflect how unsettled and unsure of the future we all are currently.
TW: At a time that has been difficult for all, what has been the best piece of advice you've be given?
HB: My friends have been reminding me that we need to be kind to ourselves. These are unprecedented times and I think it is important to enjoy the small things that make you happy.
TW: Name three of your greatest pleasures, which have seen you through the tumultuous year that was 2020. 
HB: Living by the beach is amazing. My studio is on the waterfront and I have tried to swim in the sea as much as I can this year. I also do yoga as often as I can and walks with Yoko, my Bedlington Terrier, have kept me sane.
"I wanted to make some work to reflect how unsettled and unsure of the future we all are currently."
Silkscreen editions with The Paul Stolper Gallery, available for sale from 10am GMT Wednesday 31st March

For more information contact info@paulstolper.com.