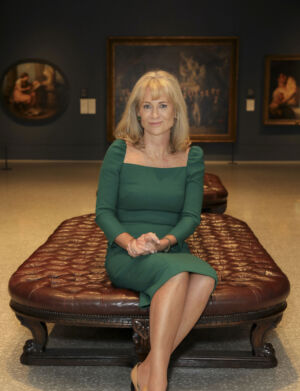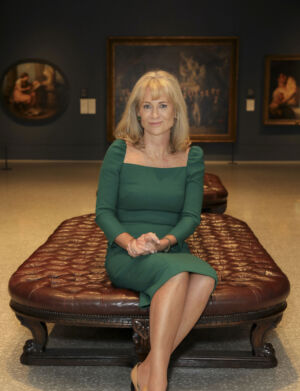 Interview The Royal Academy's Lady Alison Myners
Interview
Lady Alison Myners
11 March 2021
Interview
Lady Alison Myners
11 March 2021
An experienced and respected chair of boards in the nonprofit sector, Lady Alison Myners is best known for her role as Chair of the Royal Academy Trust, which she first joined in 2003, setting up a hardship fund to support students struggling to live in London. She returned to the Royal Academy after chairing the boards of the Contemporary Art Society and then the ICA. As a trained psychotherapist, she was perhaps better equipped than most to deal with the uncertainty and challenges caused by the coronavirus pandemic. Here she shares how nature has helped her cope and what we can all look forward to when the RA reopens its doors.
THE WICK: Do you have a typical Monday and what's on the agenda for today?
Alison Myners: I am an early waker and begin every day with a walk around Hyde Park. Touching nature balances me for the day ahead and makes me deeply happy. I finish my walk at the gym (if open) for another bout of exercise, or at home if it is closed, and on alternate mornings, I swim. I try to keep Mondays and Fridays clear of meetings to avoid the week running away from me. Mondays are important to set the agenda, timings and priorities for the week and to get ahead with urgent emails.
TW: Name three of your greatest pleasures, which have seen you through the tumultuous year that was 2020.
AM: Many of my planned trips were cancelled and, anticipating more travel restrictions, I visited different parts of the UK, staying with friends or with. The Landmark Trust or Living Architecture. The National Trust also has some great properties. We take for granted this extraordinary island, the UK offers truly diverse experiences within its shores. My new rediscovery was the New Forest, where I took my mother and sister for a break when the hotel mistakenly booked us there instead of another location! Early morning walks with wild ponies, low mist through verdant forests with magical dappled light – it was truly beautiful. Unspoiled landscapes, forest, heaths, rivers, beaches, brisk swims and enchanting wooden homes nestling amid the trees. Next year, I would like to spend time in Scotland (my family hail from the Isle of Lewis), and revisit the Pennines and the Yorkshire Dales. The South Downs are also beautiful.

We were so fortunate to have extraordinary weather through Spring and Summer. My family had nearly six months eating outside together and I was so grateful for our garden, for Hyde Park and Kensington Gardens close by. I also gave time to cooking properly with simple fresh ingredients. I bought wonderful cookery books and looked up new recipes. I would never have had the time or interest to do this in our previous world

TW: You are the chair of the Royal Academy Trust at a time when the museum sector has been dramatically affected. What are you most excited about in the future?
AM: I am excited about the programme – Francis Bacon, Michael Armitage and David Hockney shows lie ahead. I am excited to see our team meeting the Academy's audiences once again. And of equal importance, placing behind us the sadness of the immense impact of world events on the cultural world, focussing on a future that although changed, will allow us to open our doors again, welcoming an audience hungry for face-to-face physical contact with fabulous art exhibitions. I had no idea how much I would miss actually standing before a work of art until these closures made this a reality.
"I had no idea how much I would miss actually standing before a work of art until these closures made this a reality."
TW: Who would you choose to commission or take your portrait?
AM: Cathy de Monchaux. She is not a portrait artist per se, but I have a feeling she would create something about the essence of a woman, which might be more important.
TW: Who is your Monday Muse and why?
AM: I am biased, of course, but our President at the Royal Academy, Rebecca Salter RA. A sublimely talented artist, she is the first female President of the Academicians in 252 years. I have worked closely with Rebecca through this crisis and she is one of the finest women and leaders I know. She is intelligent, strong, modest, with a clear sense of integrity whilst maintaining a terrific sense of humour.