Spotlight Painter Bobbye Fermie
Championed by Sarah Reynolds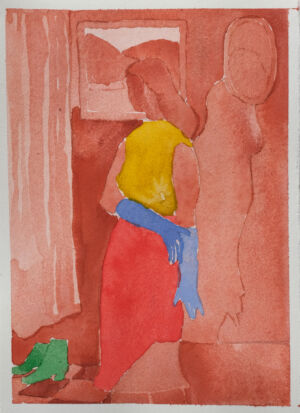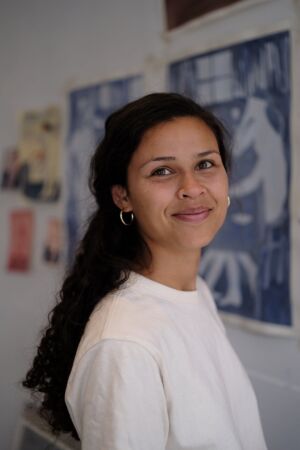 Curator and art advisor Sarah Reynolds created The Violet Hour with partner Alex Wellesley Wesley to champion affordable emerging art. Established in 2013, The Violet Hour works with artists from all backgrounds, providing advice and support, and links to galleries, museums and other non-gallery spaces to create pop-up solo and group projects and exhibitions.

Bobbye Fermie's work will be part of 'Pageant', a group show of 13 artists curated by The Violet Hour at Abbott and Holder, London, which is running until 22 December.

Reynolds says: "In spring 2020 when lockdown hit, we found ourselves physically confined, yet it gave us the opportunity to reach out and work more expansively online, with artists from their studios, raising money for charity with group shows. It seemed the right way to go and initiatives like the Artist Support Pledge absolutely got that mood. I had seen Bobbye's work at The Drawing Year [at the Royal Drawing School] and then again in 2020 in 'Reaction in Seclusion', an online show curated by the brilliant painter Beatrice Hasell-McCosh, and I invited Bobbye to be part of our second online show that year. We had several more before we actually met in autumn 2021!"

After finishing her postgraduate degree at the Royal Drawing School, Fermie moved her practice from observational drawing to painting from imagination and memory. Her intimate watercolour paintings, collage and paper sculptures are often introspective, exploring themes of isolation and social anxieties, questioning the relationship of her female figures and their surroundings. She says: "[My inspiration comes] mostly from daily sights and surroundings, but also everything in between, from my walks to daily routines, to film, textiles and clothes to architecture."

Reynolds adds: "For me, her work brims with paradoxes: simultaneously resonant and still, specific and universal – always profoundly feminine. An introvert, Bobbye conveys a degree of introspection and intimacy around her figures, cocooned in a domestic setting but staged as if in a theatrical composition: there might be a window, a rippling curtain, a candle. She explores themes of anxiety, isolation, personal space. The delicate lines and still planes of her watercolours, intent with symbols and imbued with rich colour, aptly illustrate these contradictions and are more beguiling for them."

Amsterdam-born Fermie now lives and works in London and shows regularly with Purslane, Wilder Gallery, Blue Shop Cottage and Wondering People.

Reynolds says: "I would say she is firmly established as a highly collectible artist. I look forward to what she does next with huge excitement. An expert handling a tricky medium, hers is a huge – and quietly modest – talent."

About the champion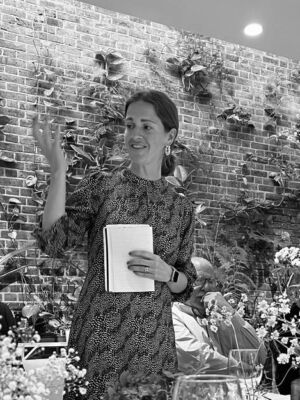 Art consultants Sarah Reynolds and Alex Wellesley Wesley launched The Violet Hour in 2013 to showcase the work of artists in the early to mid stages of their careers, across a range of media. Inspiration for each project and also the company name stems from their shared love of poetry and T.S. Eliot's The Waste Land. In addition to planning a busy exhibitions schedule, the duo also advises corporate and private clients on the emerging artists to add to their collections.
"Her work brims with paradoxes: simultaneously resonant and still, specific and universal – always profoundly feminine."